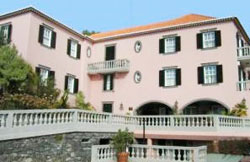 São Nicolau is an island in the Barlavento group of Cape Verde. It is not very touristic, being very tranquil and traditional. It has picturesque rock peaks and black volcanic beaches.

The island's capital is Ribeira Brava, perched on the mountainsides. It is specked with pastel-coloured colonial homes with pretty well-tended gardens. A national patrimony, the Church of Our Lady of the Rosary, is located here. The surrounding landscapes are quite breathtaking and popular for walking excursions and horseback riding.
São Nicolau is a popular fishing spot for blue marlin. Its port town of Tarrafal is the ideal place for fishing trips. The black sand of Tarrafal's beach is believed to have healing powers, so locals burying themselves in it is quite a common sight here.
---