Santo Domingo de los Tsáchilas used to be a part of Pichincha province until October 2007 when it was declared a separate new province by the Ecuadorian government. The province only has one canton, which has the same name as the province's capital.
The province is the new home of a lot of Colombian immigrants hoping to find their fortunes in Ecuador.
Santo Domingo de Los Tsáchilas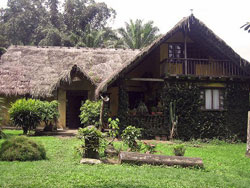 The valley of Santo Domingo de Los Tsáchilas, which used to be called Santo Domingo de los Colorados after its local men who dyed their hair with achiote paste, is an outstanding producer of bananas, sugar, and palm oil. The region experiences floods after heavy rains so many travellers choose to skip Santo Domingo in their itineraries and just pass by the area en route to the coastline. The capital city does have several good restaurants, a disco and a salsateca. Several reserves can also be found just right outside the city.

Asthmatics would do well not to stay long in this dusty and rather polluted city. But in spite of the dirt and cacophony the traveller can still make the most of his stay in Santo Domingo by going to the city's nearby forest region to enjoy some birdwatching and wildlife viewing.
---
Find properties for sale in Santo Domingo de los Tsachilas, Ecuador