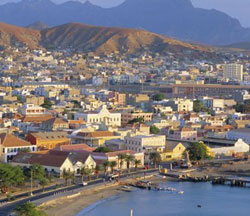 Santo Antão is the largest island in Barlavento in Cape Verde. The lush and verdant island has breathtaking landscapes of rugged mountains, deep valleys, ravines and gorges. One can have spectacular views from the coastal roads, but nothing beats exploring the scenery through long walks and hiking.

Ribeira Grande is the island's main town, popular to trekkers. Another well-visited place is Fontainhas. The village is perched on a rock's edge and the houses lining the street have a very steep drop behind them.
A new residential complex, Lombo Branco, is being developed in Paul, Santo Antão. It consists of individual and semi-detached villas with panoramic ocean views. The development will have green spaces, restaurants, bars, and communal swimming pools.
Santo Antão is also well known for grogue, liquor made from sugar cane.
---