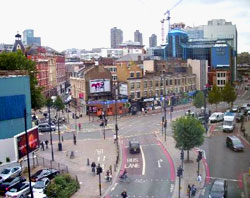 Santiago del Estero is composed of the flatlands of the Gran Chaco, an arid area characterized by semi-deserts and steppes. It has high temperatures all year round, and a subtropical climate with a dry season.

Santiago del Estero has a mostly underproductive agricultural industry, although its somewhat developed tourism sector helps raise the province's economy. Its capital, Santiago del Estero, is Argentina's oldest city. It is filled with museums and historical houses and buildings.
The soothing mineral waters of the hot springs of Termas de Río Hondo have drawn many visitors, and some 200 hotels have sprouted around the city, which is Argenitina's most important spa centre. The area where the Frontal dam area is also quite busy as it is a destination for water sports enthusiasts.
Santiago del Estero
Nicknamed "La Madre de Ciudades" because it is the first Argentinian city founded by the Spanish, Santiago del Estero is the capital of Santiago del Estero Province.
Founded near the Río Dulce, Santiago del Estero is usually warm and sunny. Palm trees fringe the riverbanks, and the city's clubs and public spaces ring with the sounds of the local folk music, chacarera—especially at night, when the plazas and streets come to life. There is a lot of daytime activity as well, including fishing along the river, shopping, and visiting the area's archaeological sites.
While Santiago del Estero has retained some of its colonial-era architecture, most of its buildings are modern. Many of Santiago del Estero's residents speak the indigenous Quechua language. The city has two universities and a domestic airport.
---