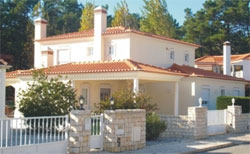 Santiago is the largest island in Cape Verde, with a beautiful blend of stony mountains and verdant valleys, of flat regions and fine beaches. A rainforest dominates its heart, home to numerous endemic plants. The island is a delight for birdwatchers, as many native bird species can be spotted here.

Santiago is unmistakably African in culture, particularly evident in its capital, Praia. During the day, the city bustles with agricultural and trading activities in the colourful market, and at nights, live music resonates in its many bars and restaurants, and local artists perform in a cultural centre.
History permeates in Santiago, particularly in its old capital, Cidade Velha. Many of Santiago's residents count escaped slaves among their ancestors. One of the island's most important festivals is the Tabanka, a celebration of the emancipation of the slaves.
The biggest musical celebration in Cape Verde, the Gamboa Festival, takes place in Santiago, and draws local artists and those from other countries to perform in it.
Another treasure of Santiago is the quaint fishing town of Tarrafal, home to small white sand beaches.
Praia
Its name means "beach" in Portuguese, and the city of Praia sits on cliffs overlooking the waters of the North Atlantic. Praia is the capital and largest city of Cape Verde, and the home of about a quarter of the country's population.
There are some fishing and agricultural areas in and near the city, but Praia's economy relies mainly on the services sector, including administration, health care and tourism. It has an international airport and a ferry and cargo port.
It is the most culturally diverse place in Cape Verde, with international influences and a rich African heritage due to its being one of the stops on the slave trade route in the past.
Praia's central market sells fruits, vegetables and fish. It also serves as a transport hub, where taxis and vans await to take passengers to other parts of the city. There are poor areas within the city limits and outside it, with shanties covering the hills near the city.
---