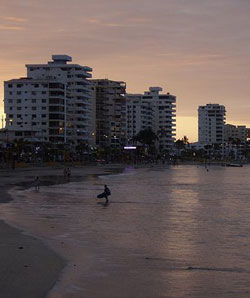 Santa Elena was a part of Guayas province until its separation from it in 2007. The capital of the young province is the city of Santa Elena.

Santa Elena's beaches range from well-peopled, tourist-friendly shores to isolated, "unswimmable" cliffside areas. The thermal baths of the Baños de San Vicente are popular with tourists.

Ecuador's oldest archaeological exhibit in Santa Elena. The Museo de los Amantes de Sumpa has 190 skeletons from the ancient Las Vegas culture, including 8000-year-old skeletons embracing each other.
La Libertad
If you go west from the city of Santa Elena, you will find the bustling market town of La Libertad.
The canton serves as a port for oil exports. To the north is a nice, quiet beach that generates some of Montañita's surf-worthy waves. La Libertad also has numerous shops, restaurants, and banks on its main road. Bingo addicts can play every night in the town's bingo halls.
Salinas
The town of Salinas is the best place to go whale-watching. Its lovely beach is also popular with families, sunbathers, skydivers, and water skiers. Yachts can be seen in the distance. The famous Ruta del Sol, Ecuador's prime beach area, stretches between Salinas and Esmeraldas.
The Santa Elena region not only obtains its salt from Salinas' mines; it also derives a large part of its economy from the town's booming tourism industry. Luxury hotels and high-rise apartments inhabited by well-heeled Ecuadorians and expats are to be found near the beach. The town has a superb nightlife; lively bars, discos, and casinos are not hard to come by in Salinas, especially in its bayfront area. Its Malecón, or boardwalk, is safe and fun to visit during daytime and in the evening. The new water park, with its giant whirlpools and wave machines, is not to be missed.
Salinas' Naval Archeological Museum exhibits artefacts from 8,000-year-old cultures. The Valdivia Venus sculptures on display embody the ancient inhabitants' belief of the  fertility of women and the land.
The town also has internet shops, the retail food giant Supermaxi and other household-named local stores such as Fybeca drugstore and the electronic shop Tventas.
Montañita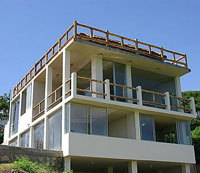 Known as the surfing capital of South America, Montañita is world-famous for its waves and marvelous golden-sand beaches. Many foreign surfing fanatics love it here so much that they have decided to reside here permanently—particularly Russians, Americans, Argentines, Canadians, and Germans, making the relaxed and cosy resort town truly multicultural. It is also a favourite retreat of the Guayaquil-weary crowd.

Thrill-seekers frequent Montañita's surfer-approved beach. After a day riding the waves, they make their way to nearby restaurants to get their fill of pizzas and seafood pasta. The town also has several hostels offering rooms at highly affordable rates. Montañita's nightlife is as first-rate as its daytime seaside fun. Marijuana is widely available here and you can even see it smoked casually and openly in the streets, though possession is illegal.
The locals are mostly engaged in handicrafts, selling jewellery and clothing along Montañita's main street. Quaint, rustic fishermen's houses mark some areas.
---