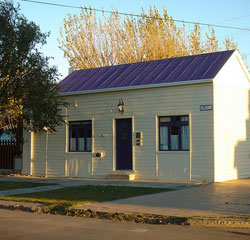 Santa Cruz is Argentina's second largest province. It has a small local population and a wealth of natural resources; it is one of the most prosperous regions in the country.

The Los Glaciares National Park in the continent's Antarctic south is in Santa Cruz. One of its ice masses, the Perito Moreno Glacier, is a major tourist destination. An airport in nearby El Calafate connects the area with Buenos Aires and Trelew. The village of El Chaltén at the feet of Cerro Torre and Mount Fitz Roy is still quite underdeveloped, although it has become a hub for various trekking routes to the nearby glaciers. Further north, fewer visitors make it as far as the Cueva de la Manos (near the town of Perito Moreno) to view the prehistoric wall paintings in the caves by the Pinturas River. The areas of Perito Moreno National Park and its lakes north of Los Glaciares hardly receive any visitors.
The province is famous among enthusiasts of the Great Outdoors, who enjoy trekking through the magnificent glacier, sport fishing, rafting and rock climbing. Santa Cruz's being on the Atlantic coastline also makes it a gateway to Tierra del Fuego, Chubut Province and Buenos Aires (following the National Route 3). Busier parts of this province include the cities of Río Gallegos, the petrified forest of the Bosques Petrificados National Monument, and the depression of Laguna del Carbón near Puerto San Julían.
Rio Gallegos
Río Gallegos is not a big tourist destination. While it has an international airport and hotels and commercial areas, visitors usually only pass by on their way to Ushuaia or Chile.
Río Gallegos, situated near the river of the same name, was an important base of operations for the Argentine air forces during the Falklands war. There is still a large military base in the city. Río Gallegos has an important commercial pier that exports coal, sheep meat and wool, and part of its economy derives from agriculture and animal husbandry.
---