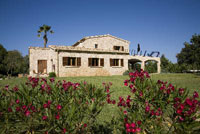 Sant Andreu is fairly multicultural. Behind its many utilitarian apartment blocks, lies a well-preserved historic city centre, which dates back to the 19th century and has been used as a setting for telenovelas.

Sant Andreu has industrial as well as commercial and residential areas. It has some parks with sporting facilities, but its green spaces are small and few.
There are some theaters here and bars that stay open late, but the nightlife is generally low-key. For shopping, it has La Maquinista, which is emerging as one of Barcelona's most popular shopping centers.
---