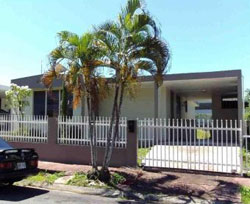 The town of San Sebastian was originally called by the lengthy name of San Sebastian de las Vegas del Pepino. Pepinos are cow farms, which the town was noted for. Though the name has been shortened to San Sebastian, the citizens continue to refer to themselves as Pepinianos.

The economy of this small mountain town is mainly centred on agriculture, specifically the coffee and dairy industries. Initially, it was difficult to travel to San Sebastian because of poor roads. But following road reconstruction in the 1990s, the town has been more accessible to trade and tourists who want to see the sights that San Sebastian has to offer—the spectacular waterfall El Salto de Collazo, the Hamac Bridge over the Rio Guatemala, and the historical estates of Hacienda El Jibarito and Doña Bisa Cabrero House.
The Coliseo Luis Aymat Cardona is the home base of the professional volleyball team, Caribes de San Sebastian.
---