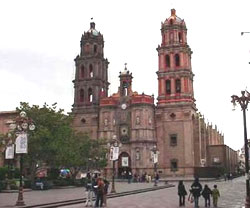 San Luis is not particularly renowned as an international tourist destination, but the area is popular among local tourists who visit the low sierras around Villa de Merlo for their mild weather and beneficial, oxygen-rich air.

Other paces of interest in the province are the capital city San Luis, the Sierra de las Quijadas National Park, the lush Valle del Conlara, the towns of Portero de los Funes and its famous racing circuit, Papagayos and its waving palm trees, La Carolina and El Trapiche and their gold ore, El Volcán—named after a river, not a volcano, and La Toma and its onyx quarries.
San Luis City
Four-hundred-year-old San Luis is one of Argentina's oldest cities, a place of historic Spanish colonial houses and public buildings, many of which are museums and other centres of culture. San Luis' parks, including the wooded Park of the Nations, have monuments to great Argentinians, including General José de San Martín, and his ally Colonel Juan Pascual Pringles, who also served as Governor of San Luis Province.
The city's La Florida, Luján and La Huertita dams are well-stocked and are ideal sites for fishing and water activities. Near San Luis, the towns of Balde and San Jerónimo have hot springs that draw thousands of visitors every year.
---