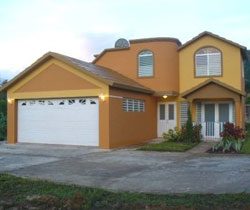 The town of San Lorenzo began as an agricultural community, but industrialization and urbanization have transformed it into a progressive industrial region with suburban residential neighbourhoods. While surrounding areas still cultivate sugarcane and tobacco, San Lorenzo is into manufacturing electrochemical equipment and pharmaceuticals.

Despite the gradual modernization of San Lorenzo, the town has taken measures to preserve historical landmarks, such as the Plaza de Recreo Luis Muñoz Rivera, where Puerto Rico's third oldest church is situated, and the Santuario de la Virgen del Carmen on Montaña Santa (Holy Mountain), where a special spot in the middle of the forest has been transformed into a tropical Golgotha, complete with Three Crosses, where devotees could meditate and pray.
The Teatro Priscilla Flores, once the cultural and social centre in San Lorenzo, is being rented out for private functions when not in use for town activities.
---