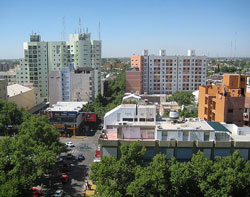 The province of San Juan belongs to the semi-desert Cuyo region. It is mostly agricultural, and is the country's second largest producer of wine.

Its main attractions are the city of San Juan, the Ischigualasto Provincial Park, the Quebrada de Ullum Dam, the Pismenta hot springs, and the pagan Difunta Correa shrine.


San Juan City
The city of San Juan is in fertile wine country; more than half of the city's agricultural output is used in the production of wine. Rainfall is scarce, so to stay green the city resorts to artificial means, not unlike the irrigation process used throughout the province for its vineyards and orchards. Running between San Juan's streets and pavements are small canals that irrigate the mulberry and paradise trees that line streets and squares.
The main shopping and entertainment streets in San Juan are  Mitre, José Ignacio de la Roza Avenida Santa Fe, the pedestrian Calle Rivadavia and Avenida San Martín, where many of San Juan's fine restaurants are.
San Juan's main tourist attractions are its vineyards, the nearby Ischigualasto National Park, and the Quebrada de Ullum Dam, which has a hydroelectricity station that provides the city power. San Juan is also rich in archeological sites, and has a wealth of prehistoric artefacts in the Mariano Gambier Archeology Museum.
---