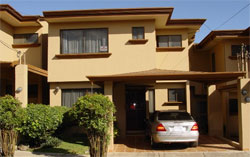 The province of San José (a prime area) is situated in the Central Valley, whose territory includes forests, volcanoes and mountains. San José has a mild to moderate climate characteristic of spring, and its rich volcanic soil produces some of the world's best coffees.

First settled during colonization, San José is the most densely populated region in the country. Its present population is expected to rise even more as it continues to lure expats to buy or build homes here.

The capital city of San José is not the best choice for living. Heavy traffic, air and noise pollution, and street crimes bedevil residents and visitors. Yet the city is quite cosmopolitan, with elegant hotels and nice restaurants serving international cuisines. Downtown, there are many historic buildings, plazas and parks.
La Sabana Park, where San José's main airport was once located, is the province's largest public park. It has lakes, ponds, and recreational facilities. The park is surrounded by upscale neighbourhoods.
Rohrmoser is a middle-to-upper class district where embassies and many business establishments are located.
The very posh Escazú is the address of choice of wealthy locals and foreign diplomats. 
Gated communities dominate downtown Santa Ana, which is less developed than Escazú and has more low cost housing. Los Yoses is a middle-to-upper class neighbourhood with some affordable housing.
Neighbourhoods such as Curridabat, Pavas, San Franciso de Dos Rios, and Zapote also have inexpensive housing available. Pavas, however, has notorious slums.
Escazu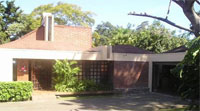 Escazú sits on the slopes of the mountain range of the same name. It is cooler here than in San José, and it is probably the most exclusive place in Costa Rica.

Escazú has elegant homes and country estates, high-rise condominiums, luxury hotels, country clubs, excellent medical and dental offices, a prestigious English language school and several private schools. There are chic and trendy shops, restaurants and bars, banks, supermarkets, grocery stores, and pharmacies, movie theatres, a bowling alley, and an 18-hole golf course. The main road leading to the neighbourhood is lined with international restaurants and fast food outlets, most of which are American franchises.

Escazú has always been the preferred choice of wealthy Costa Ricans. These residents are now joined by rich expats, particularly North Americans and Europeans, as several foreign embassies and ambassadors' homes are here.
The city has three main neighbourhoods: San Antonio, San Rafael, and Escazú Centro. The latter has a more rural appeal, with single-family homes and narrow, not-so-busy streets. San Rafael and San Antonio are somewhat more upmarket.
Trejos Montealegre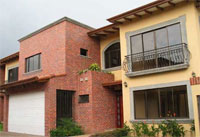 The upscale and very secure neighbourhood of Trejos Montealegre is home to many foreign diplomats.