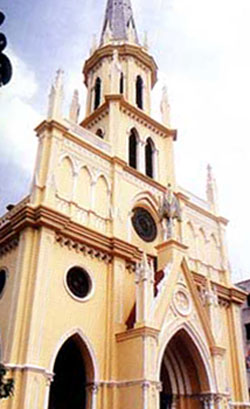 Samphanthawong is Bangkok's Chinatown. It is the smallest and most densely populated district in the city. The largest Chinese community in Bangkok can be found here. Its main street is the very crowded Sampheng Lane.

Samphanthawong has many shrines, temples, and even a mosque.

Yaowarat Road, which runs for 1.5 kilometres, is famous for its gold shops (about 132 in all, the biggest concentration of gold trade in the country), hardware stores, fabric stores, and Chinese restaurants. Traditional Chinese medicine is also found in small apothecary shops that line the walking lanes from the main road. Yaowarat Road becomes much crowded and lively at night, when stalls selling all kinds of food are set up, creating a large eating area.
There are also shops along Sampheng (now Wanit 1), and Charoen Krung roads. Certain markets are known for specific items, such as the shops on Khlong Ong Ang for game consoles and Khlong Thom Market for cheap goods and electronics.
Chinese festivals are regularly held in Samphanthawong, such as the Chinese New Year celebrations, the Mid-Autumn Festival and the Chinese Vegetarian Food Festival.
---