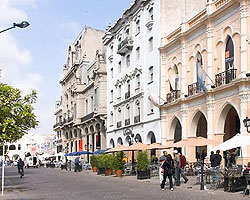 Salta is situated in a geologically active region wracked by occasional earthquakes, Salta has much to offer in terms of natural, historical and social attractions.

Its main city, Salta, is called "La Linda" (the beautiful) is full of old colonial houses, and its most famous landmark is the lovely gilt-and-red church of San Francisco. Its Museo de Arqueología de Alta Montaña de Salta has in its collection three frozen Inca mummies. Other busy areas are the wine-town Cafayate and the villages surrounding the Cachi mountains.
The western region of the province is sparsely populated, composed mainly of arid high plains and salty lakes. In the sleepy town of San Antonio de los Cobres in the mountains, low adobe buildings in the centre and llamas and vicuñas by the desert are a familiar sight.
Near the Gran Chaco side in the eastern region is a subtropical and humid environment that includes the Yungas jungle in the El Rey National Park.
Salta City
A visitor walking through the cobblestoned streets of Salta will probably see why it earns its nickname La Linda ("the fair"). Well-preserved Spanish colonial buildings populate the city, from the neoclassical Salta Cathedral and the becolumned, red and white Iglesia San Francisco to El Cabildo, the city's long, low, 18th century town hall that now holds a museum. Many of the other museums in the city are housed in old mansions. Salta has a lot of cultural institutions, including cinemas, theatres and the Casa de la Cultura, where symphonies are regularly performed by Salta's classical orchestra.
Salta is a city of low houses and narrow streets. Sitting in the Lerma Valley, it has a beautiful view of the hills that surround it, in particular San Bernardo Hill, from which you can also enjoy a view of the city.
The Plaza 9 de Julio is the city centre. On every side of the open square are old buildings, some dating from the 18th century, including the cathedral.
Salta's night life is centred on Calle Balcarce near the train station. The street has dozens of restaurants, bars, cafés and clubs and is a tourist magnet, especially in the evenings.
The Mercado Artesanal, a ranch-turned-shopping area, is Salta's crafts market.
Salta is the starting point of the Tren A Las Nubes (Train To The Clouds), a track that goes all the way up in to the Andes. It is the third highest railway in the world; it goes up so high that passengers can even see clouds below them as they go over the bridges.
---