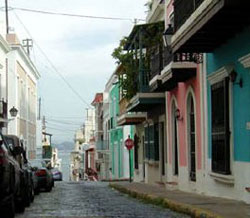 The town of Salinas is a noted fishing centre and salt producer.

Its Jobos Bay National Estuarine Research Reserve is unique because it is divided into saltwater and freshwater sections—the former represented by the Cayos Caribe islets, with their coral reefs and seagrass beds, the latter by the Mar Negro, a mangrove forest with a system of channels and lagoons that courses through small patches of salt and mud flats.

Salinas has the only Olympic training centre in Puerto Rico. Visiting athletes avail of the living quarters and training facilities that the Albergue Olimpico has to offer. Also on the premises are facilities that the whole family can enjoy, like an Olympic-sized swimming pool, a children's playground, a rock garden, a mini-mall, and an aviary of exotic birds.
Salinas is most famous for its mojito isleño, a special sauce used in seafood dishes.
---