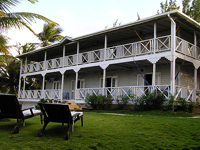 If other parishes pride themselves on pristine beaches, shopping malls, and sugarcane plantations, St. Thomas boasts of its natural wonders and its community's simple way of life.

A landlocked parish in the centre of Barbados, St. Thomas has steep hills and winding roads bordered by caves, gullies, and woods.
Most of the country's Bajan population live in St. Thomas. Instead of shopping and partying, locals and tourists here are more interested in pottery. In the parish's Earthworks Pottery guests can watch native potters create the most exceptional pots that they can take home as souvenirs. There is also a batik studio here.
 
Harrison's Cave, a limestone cavern, has some spectacular stalactites and stalagmites, and a breathtaking 12-metre underground waterfall with a river that flows from one chamber to another, towards a lake in the last cavern.
Another natural wonder is the Welchman Hall Gully, a mile-long channel formed out of collapsed caverns, and a tropical landscape surrounded by cloves, bamboos, and palm trees.
The Highland Adventure Centre provides a tour through the parish's terrains and hills on either a horse or a mountain bike, depending on the guest's choice.
The most notable churches are St. Thomas Parish Church and the Sharon Moravian Church. The Moravians, a movement which originated with Jan Hus, were the first Protestants missionary movement, and the first Protestant denomination to minister to slaves.
For those who are looking for a perfect place to wine and dine, the Bagatelle Great House and Fisherpond Great House offer traditional Bajan delights.
---