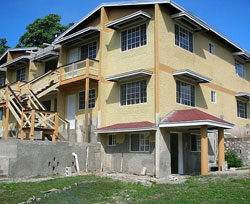 Glorious beaches, scenic mountains, hip art galleries, and distinguished historic attractions can all be found in the suburban parish of Saint Thomas. Its capital is Morant Bay, once the site of Spanish cattle ranches. Among its other major towns are Yallahs and Bath, which is favoured by tourists for its hot mineral springs.

The terrain of this parish is extremely mountainous. The Port Royal Mountains stretch from here to Saint Andrew, and it is bordered by the Blue Mountains in the north. There are also vast swampy areas, cliffs and, of course, beaches. Three large rivers flow through the parish, making the land fertile and excellent for agriculture, its main economic activity. Many factories are also found in Saint Thomas.

Saint Thomas has many different types of attractions. There are is a Botanical Garden in Bath. Its main attraction, though, is its therapeutic spa, which was established in 1699. At Morant Point is the oldest lighthouse in Jamaica. Yallahs is the site of two famous saltwater ponds. There are some fascinating period structures throughout the parish, including the Stokes Hall Great House, the Morant Bay Court House, and the Albion Aqueduct and Sugar Mill.
There are also some art galleries which feature works by local artists. The strong European influence in the parish can be seen in the many restaurants serving excellent European food.
Despite its various attractions, Saint Thomas does not draw many tourists. This, however, makes it quite a relaxing place.
Morant Bay
The vibrant capital of St. Thomas has a lot of history. It was here that the most significant peasant revolt in Jamaica took place in 1865. Its causes, and the controversial and brutal repression of the rebels by British soldiers, resulted in the Jamaican Assembly's renouncing its powers and the island's becoming a crown colony.
Today, Morant Bay is a vibrant, busy city. It has a delightful central market where Rastafarian accessories are sold. Local crafts of all kinds are made and sold at the Arcade, a row of small wooden shops. There are also many restaurants that serve local cuisine and some bars, including one on the beach. The public Prospect Beach is lovely, as is the more secluded Lyssons Beach. Morant Bay has good facilities for visitors.
Unfortunately, the city also has a number of problems such as lack of employment opportunities and a high illiteracy rate, leading to the rise in crime.
---