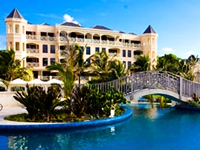 St. Philip, perched on the southeast coast of Barbados, enjoys the cool brought by the trade winds that blow constantly through the island. Life in St. Philip is at a very relaxed pace.

St. Philip has plenty of commercially developed spots as well as some remarkable residential investment properties. The parish has huge fields and plains and many plantation houses, such as Sunbury, which is open to the public and which is known for its restaurant and its splendid collection of carriages.
The Foursquare Rum Distillery and Heritage Park offers a tour where guests can experience first-hand how the Barbadian drink is manufactured and distributed.
Another stop is Sam Lord's Castle. According to island legend, Sam Lord was an infamous buccaneer who lured ships to his port, where they would hit the reefs and sink, allowing him to rob them. His treasure, rumoured to have been buried somewhere in the castle grounds, has never been found.
A little farther inland is Bushy Park Plantation, which is well-known for its racetrack, the setting of various international racing car competitions.
Not far from Bushy Park is the village of Six Cross Roads, which got its name because it is on the junction of six roads (including three highways). It has a well-equipped supermarket, a post office, gift shops, and many boutiques.
St. Philip has lots of magnificent beaches, including Foul Bay and Bottom Bay, but as with many other beaches on the island's eastern coast, swimming is not advisable when the waves get large and rough. Crane Beach, world-famous for its beauty brilliant white sands, crystalline waters and its large waves, is probably the most prominent of these beaches. It is protected by a coral reef and fringed by cliffs and palm trees.
If you want to get a quick look of all the white sandy beaches in and around St. Philip, the best spot would be from the East Point Lighthouse on the cliffs of Ragged Point, the easternmost part of Barbados.
---