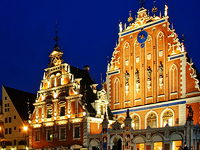 Most of St. Peter is on Barbados's north coast. But it also extends both westwards, where there are many beaches, and eastwards to the jagged eastern Atlantic Ocean coast, where surfing waves are plentiful. St. Peter has a refreshing climate, with windy days and summer seasons.

In St. Peter, bustling tourism meets traditional fishing. Speightstown, a fishing village, is the second largest town in Barbados. It was once the busiest port on the island.
St. Peter still has many historical places and fine examples of English architecture, such as St. Nicholas Abbey, which was built in the 1650s. Surrounded by hundreds of acres of sugarcane fields, this is one of the few original Jacobean houses in the Western Hemisphere outside of Britain. (Another one is Drax Hall in the parish of St. George.)
In Speightstown there's also St. Peter's Parish Church, built in the 1630's. The church was twice destroyed, but the local government has restored it.
In the western part of the town, facing Heywoods Beach, you will find the new luxury development Port St. Charles, which has revitalized Speightstown and which has an impressive array of residential dwellings with yacht quays. These houses are rented to tourists during holidays and other peak seasons.
Other than taking a tour of the English-inspired architecture, visitors should take in the local restaurants "Mango's and Lamer" which serve superb western cuisine. For traditional Bajan food fare, head for the Fisherman's Pub along Queen's Street.
The western coast has many striking beaches perfect for sun bathing, swimming, and beach walks, and many luxury resorts, including the Almond Beach Village, a large sugar plantation turned hotel, Sandridge Beach Hotel about a mile from Speightstown, and the Sugar Cane Club Hotel and Spa, which is surrounded by a botanical garden.
---