The parish of Saint Paul (a prime area) has preserved much of the country's British colonial heritage. Its most historically prominent area are the dockyard and the fort in the Nelson's Dockyard National Park. Saint Paul' deep water harbours, Falmouth and English Harbour, were the base of operations of Britain's Royal Navy during the 18th and 19th centuries.
Falmouth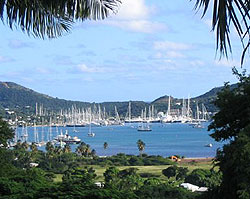 The small village of Falmouth is one of Antigua's most historic districts. The British first settled in the area in the early 16th century. The oldest building in town is St. Paul's Church, built in 1676. The massive Fort George, completed in 1715, was constructed to shelter women and children against French attacks. It now lies in ruins atop Monk's Hill behind Falmouth, inviting exploration and giving a breathtaking view of the harbour.

Old sugar plantations and mills also surround the town. The main road leads to Antigua's third largest town Liberta, where stories of emancipation are still told.
Falmouth Harbour
Falmouth Harbour is quite high-profile, regarded as the Caribbean's yachting capital. It hosts international events and windsurfing, sailing, and golf competitions. It is the seat of the world-renowned Antigua Classic Yacht Regatta and Antigua Sailing Week. The harbour's large marina specifically accommodates mega-yachts and large sailing ships and provides complete yacht facilities and services, including water supply, fuel, and electricity.
Shops, cafés, bars, restaurants, ice cream parlors, and water sports shops line the area. The Antigua Yacht Club's marina also has restaurants, a supermarket, and even a bookstore. The marina also offers mooring facilities. Falmouth Harbour also has something to offer birdwatchers, as brown pelicans and Caspian terns seen only in Antigua visit the area once in a while.
Large luxurious villas with individualized styles are a main property feature in Falmouth Harbour. Lovely apartments and condominiums overlooking the harbour serve as short-stay or long-term vacation rentals. Prime hillside plots and exclusive waterfront properties and private residences are also on the market.
English Harbour
English Harbour is a historic and yet modern residential district. The town served as base to the British Navy, led by Admiral Horatio Nelson, in the late 18th century. Abandoned in 1889, the significant Nelson's Dockyard has been fully restored and is now a National Park. This heritage site is the only Georgian harbor in the world still operating. Clarence House, built for the future King William IV when he was still a prince and an officer under Nelson's command, is also situated here.

Ruins of a fortification can be found in Shirley Heights, still within the National Park. One ascends through a trail leading to the Lookout, where a restaurant has been built. This high point offers the greatest view of English Harbour and its neighbour, Falmouth. The observation post at Dow's Hill also provides a spectacular view of the ocean and sailing activities below.
English Harbour has two large marinas. Local communities host international events here, including Antigua Sailing Week. November to May is high traffic season for English Harbour; accommodations, shops, restaurants, bars, cafés, internet cafés, and car parks are in full operation. Business ventures are on the rise and many office spaces are offered for lease. There are opportunities to purchase private villas and land. While more and more contemporary-style houses with perfectly landscaped blossoming gardens enhance the town's appeal, preserved colonial buildings, traditional homes on the hillsides, and natural vegetation still highlight the area's old charm.
As water and electric supplies can sometimes disappoint, several homes and establishments in English Harbour have reservoirs and standby generators.
---