Saint Mary (a prime area) covers the south-western part of the island of. Its capital is Bolans (or sometimes Bolands, or Boland Village).
Jolly Harbour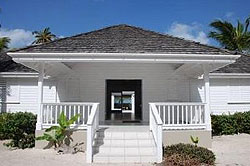 Jolly Harbour prides itself as the leading man-made residential resort in Antigua. Seafront townhouses, ocean-view villas, apartments, and condominium are its market features. It has the country's largest marina for boats and yachts. It caters to every want and need of its 1500 residents with amenities such as shopping malls, restaurants, bars, golf course, tennis courts, and pools. The well-stocked Epicurean Supermarket is the biggest and most popular store in Antigua. Marina facilities are also available, and the Caribbean's largest warehouse, the Budget Marina, is located here to the delight of local and visiting yachtsmen. There are direct flights from the UK to Jolly Harbour.
The private gated community of Harbour Island offers prime waterfront and elevated internal plots. All pieces of property have unobstructed view of the coasts and neighbourhood. Smaller developments such as Harbour View Estates, Sugar Ridge, and Tamarind Hills have also flourished here, benefiting from the harbour's facilities and attractions.
Some local residents and environmental advocacies consider the marina construction in Jolly Harbour ecologically irresponsible. Jolly Hill's salt pond, mangroves, and beaches were sacrificed to make way for these devekopments and the profits they brought in.
Morris Bay
Morris Bay serves as a safe anchorage for yachts and a great spot for strolling and watching the sunset. The elegant Curtain Bluff, one of Antigua's exclusive resorts, has become synonymous with Morris Bay. It is famed for its wine cellars and fine dining restaurant, located inside a stone building modeled after an old sugar mill. Coconut palms give enough shade for lounging. Both sides of the bluff benefit from the pleasant ocean breeze.
Inland, Morris Bay has scattered towering coconut palms and dry grass. The flat area plays host to cricket games. The bays' refreshing cool water is ideal for swimming.
---