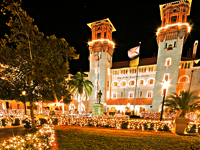 St. Lucy doesn't have malls, high rise buildings, or shopping areas. Instead, it takes you back to the early days of Barbados, when locals focused on rum, church, and the awe-inspiring beaches.

This side of the island is rocky and rough, but from its cliffs you get a glimpse of its vast beaches. The calm waters of the small beach near Little Good Harbour, a series of family-run luxury guest cottages in the small fishing village of Shermans, and inlets like Cove Bay, Little Bay (which is a must-see for the blowholes on the rocky shore, created by tunnels through the rock that spew water out like fountains) and River Bay make the parish a pleasant swimming spot. The lighthouses at Harrison's Point and North Point also let you see the beauty of the whole northeastern coast.
People in St. Lucy are generally friendly and nature-loving. Like most Caribbean communities, they love to surf and walk around the beaches and caves. One of the best surfing hang-outs in the area is Maycocks Bay.
On the northernmost tip of St. Lucy is the Animal Flower Cave, under the island's northern cliffs. It is the only sea cave that's accessible to visitors in Barbados. It is named after the sea anemones that can still be found in the cave's rock pools. Visitors swim in the pools and view the Atlantic through the numerous "windows" in the cave walls.
The parish is home to two grand rum plantation houses—Mount Gay Rum Plant and Fustic House, which can be rented as a private home. Fustic House is an 18th century estate set on a high ridge and surrounded by cane fields, with beautiful views of the Atlantic and St. Lucy's fishing villages. Fustic House was one of the Barbados homes of the stage designer Oliver Messel, and he painted the home in the shade that is now known as Messel Green.
St. Lucy is also home to three major Anglican churches: St. Lucy's Parish Church, St. Clements Church and St. Swithin's Church.
---