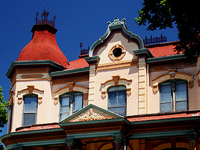 St. Joseph, the prettiest parish in Barbados, is on the eastern coast. It offers the most picturesque views of water and splashing waves, and seemingly eternal horizons. The beaches in this area are ideal for swimming, sun lounging, and surfing. The shoreline of St. Joseph is quite dramatic, with gigantic cliffs and sharp hills.

The centre of action here is Bathsheba. It's a small town that is very popular with foreign visitors mainly for one thing: the Soup Bowl, a large, beautifully curving reef break (a wave that breaks over a coral reef or a rocky seabed) that is considered by many top surfers as one of the best waves in the world. Bathsheba is the site of the annual International Surf Competition, held in November when the waves are biggest.
The town has many good bars and restaurants serving Bajan delicacies, western cuisines, and rum. The most popular hotels and bars in the area are Roundhouse and Naniki.
Other natural attractions in St. Joseph are Barbados only rainforest at Joe's River, consisting of dozens of acres of woodland on a ridge in Bathsheba, overlooking the Atlantic coast. The parish also has two of the best tropical gardens in Barbados the Andromeda Botanical Gardens and the Flower Forest, where visitors can walk along the winding paths to admire the hundreds of plant species in the gardens.
Aside from the good hotels, great beaches, and fine restaurants, St. Joseph also has some of the oldest Anglican churches in the island, including St. Joseph's Parish Church and St. Ann's Church.
---