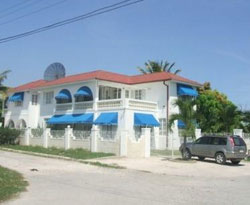 The suburban parish of St Catherine is one of the largest parishes of Jamaica in terms of land area. It is also the most prosperous parish, with rich agricultural resources and a large number of industries.

The north and central parts of the parish are extremely mountainous while the southern part, except for the Hellshire Hills, is predominantly flat. With the mighty Rio Cobre River running through a deep gorge at the south end of the parish, the water supply is excellent, making the land exceptionally fertile. Aside from sugarcane and coffee, just about every kind of tropical fruit is grown in Saint Catherine, which is still mainly an agricultural community. Fish is plentiful in the Salt Ponds District.
The first capital of Jamaica, San Jago de la Vega, is located here. Under the name of Spanish Town, it remains the capital of the parish. Spanish Town is known for being the location of the only Georgian square in Jamaica, Emancipation Square. The parish church is the centuries-old St James Cathedral. Other historic monuments here include the 18th century Kings House and still-intact House of Assembly. Near Saint Catherine's Old Harbour is the mysterious ruin of Colbeck Castle, its walls still upright. Nearby is the Caymanas Race Track. Of archaeological interest is Mountain River Cave, with its Arawak petroglyphs.

Saint Catherine is now one of the fastest growing parishes in Jamaica. When it comes to industry it is second only to Kingston. Due to the nature of its terrain and its proximity to the national capital, Saint Catherine is considered to have good potential for growth in the coming years.
Spanish Town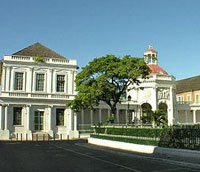 Once called San Jago de la Vega, Spanish Town was the capital of Jamaica from the 1700s to the 1800s and thus is a historically important town. Its old buildings and structures are well-preserved: an iron bridge built in 1801, a grand Spanish cathedral dating from 1525, an venerable almshouse, the Regency period Rodney Memorial and Old King's House, and its stunning Georgian town square. Most of the monuments are in the town's central park. Jamaica's National Archives is in Spanish Town.

Spanish Town offers plenty of recreation for nature lovers. Nature's Habitat has facilities for fishing as well as picnic grounds, a play area, and a mini-golf course. Nearby are the Serenity Wildlife Park and Zoo and the Old Harbour Bay, where Columbus allegedly first saw manatees and mistook them for mermaids. Off the coast lie the islands of Little Goat and Great Goat, so named because sailors used to leave the animals there so they could easily pick up a fresh supply of meat when they next cruised past. The town also has a crowded little covered market where produce, clothing, and souvenir items are sold.
---