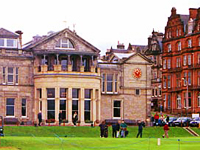 Northeast of St. Joseph is the parish of St. Andrew. It is completely situated in the area known as the Scotland District, named because its hilly scenery recalls the mountainous terrain of the Scottish Highlands. The district begins at the northeast coastline of the island and continues for about 60 square kilometres inland. It owes its unusual topography to the fact that the limestone that covers the rest of Barbados has eroded away here, revealing rocks and coral. The Scotland District is the only above-water segment of a long underwater mountain range that stretches all the way from Trinidad to Puerto Rico. Its highest point is Mount Hillaby, Barbados only mountain, which rises 1,100 feet above the sea behind the hills that range along the coast and ?? slope down to the shore.

St. Andrew has villas and other residential properties to rent along the white sand coast. It also has many older structures, such as the Grenade Hall Forest and Signal Station, from which you can get a good view of the parish, and the Morgan Lewis Mill, one of the oldest windmills in Barbados.
The West Indies Sugar Plantation, once a centre of economic activity for the island, is here. Another place of interest in the parish is the Barbados Wildlife Reserve, home to many turtles and the peculiar-looking but popular green monkeys.
St. Andrew also has the Farley Hill National Park, home to the remains of one of the grandest mansions built on the island. These days, the park is often serves as a venue for jazz and reggae festivals.
---