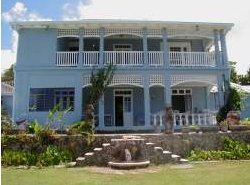 The parish of Saint Andrew (a prime area) lies directly north of Kingston and stretches all the way to the Blue Mountains. It is the most populous parish in Jamaica, and one of the oldest, having been officially established in 1867. Much of the area is agricultural, but industry is being increased in a government-developed industrial estate over 1.2 kilometres in area. Between Papine and Kingston there are some major institutions of higher education.

In 1923, Saint Andrew was combined with Kingston to create the area known as the Corporate Area of Kingston and Saint Andrew (KSAC). One commercial district is named Liguanea, after the old name of Saint Andrew. Bull Bay is also a major town, being a coastal area with large gypsum deposits.
Some important historic monuments and government buildings can be found in Saint Andrew, such as King's House, the official residence of the Governor-General of Jamaica, and Jamaica House, the former Prime Minister's place of residence. The current official residence of the Prime Minister is now Vale Royal, an 18th century house with a lookout tower on the roof. Other attractions in Saint Andrew are the National Stadium, Sabina Park (the top cricket venue on the island), and the Bob Marley Museum.
A modern urban area, the KSAC has become rather overpopulated. Over half a million people live in Saint Andrew alone. It does not have a lot of tourist attractions but it has big commercial centres.
Irish Town
Irish Town, in the lovely and cool hills of the parish of Saint Andrew, was founded by Irish immigrants who worked mainly as coopers in the 19th century. The local church is the lovely white clapboard St. Mark's Chapel. A site to visit is the Observation Dec Gallery, which displays local art. Irish Town is not really much of a town any more, as it only has two hotels and a few private homes, and is more known for a luxury resort, Strawberry Hill, which has beautiful grounds and a spa and is often used for special functions.
Half Way Tree
Lying between bustling downtown Kingston and tranquil suburban St. Andrew, the commercial district of Half Way Tree has shops, banks, offices, and schools. Large shopping complexes line Constant Spring Road, where reggae music blares from record shops. The best Rastafarian accessories can be found here.
Half Way Tree has been a popular meeting place for over a century. It gets its name from an enormous cotton tree where travellers from the surrounding towns would often meet. Now, many years after the tree has died, it is a major centre of transportation. It has a large bus and taxi depot, beisde Nelson Mandela Park.
The town also has its share of historic monuments. There is the neo-Gothic St Andrew Parish Church, which dates back to 1700. The restored Richmond Park Great House is also an attractive estate.
---