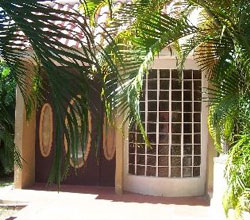 The mountain town of Sabana Grande would have been a simple agricultural community of plantain and eggplant cultivators, if not for a miraculous event that took place in the region.

On April 23, 1953, the Virgin Mary was said to have appeared before three schoolchildren in a field. When news of the apparition spread, thousands trooped to Sabana Grande to hear the Virgin's message as conveyed through the children.

During this period, and the years that followed, many miracles have been attributed to the Virgin Mary, now known as La Virgen del Pozo. In her honour, the Capilla de la Virgen del Pozo was built at the site of the apparitions. Next to it is a small museum that displays photographic and documentary proof of the many miracles that have been performed. Devotees who have been blessed with miraculous cures have left behind for display the implements of their convalescence, such as crutches, wheelchairs and certifications from doctors that there had indeed been a total cure.
For those who are interested in sights of a more earthly nature, Sabana Grande is the starting point to the Ruta Panoramica Luis Muñoz Marin, a long highway that passes through the scenic Maricao and Susua Forest Reserves. Susua Forest, especially, boasts of excellent mountain bike trails and carbonate rock formations.
---