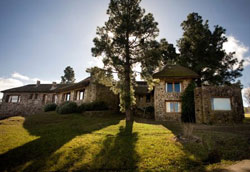 Río Negro is an agricultural region. It is divided into two sections, each with its own specific agro-industry. The eastern half is reserved for cattle and sheep grazing, making it a vital resource for meat, dairy products and wool. The western part is composed of fertile fields for the cultivation of corn, wheat and other grains, grapes, flax and sunflowers. It is also home to a fluvial port and wineries.
Tourists have been flocking to Río Negro because of the thermal springs in the barrio of Las Cañas.
The capital of Río Negro is Fray Bentos.
Fray Bentos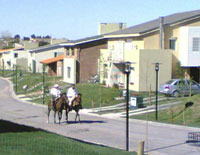 Río Negros' capital, Fray Bentos, was named after a local hermit, Friar Benedict. It was originally known as Independencia.

It is an industrial city. For more than a hundred years, its main industry was centred on the meat processing facilities of the Liebig Extract of Meat Company. After its closure in 1979, following 117 years of operation, the factory was converted into a museum.
Fray Bentos' Parque Roosevelt and Costanera Boulevard (along the park's northern edge) were built to conform to the natural layout of the land, which consists of spectacular coastal ravines. Built in memory of U.S. President Franklin Delano Roosevelt, the park also has bust in honour of National Poet Juan Zorrilla de San Martín, a monument to the Bible, a monument to soccer donated by the Departmental Liga de Soccer, and a small square with the flags of the Latin American countries.
Fray Bentos has a historic Anglican District, characterized by buildings and houses with English and German architectural styles.
---