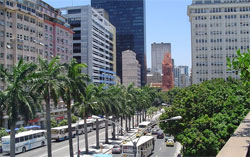 Rio de Janeiro is the second largest city in Brazil, the country's capital for almost two centuries, and the Portuguese Empire's capital from 1808 to 1821. Hailed as Cidade Maravilhosa, Rio is home to the massive and celebrated statue of Christ the Redeemer atop the Pico do Corcovado.

A city of surprising natural beauty, Rio has the two largest urban forests in the world: Parque Estadual da Pedra Branca and the Floresta da Tijuca. Gorgeous beaches are spread across several miles of Rio's South Zone, notably in iconic Copacabana and Ipanema.
In the late 19th century Rio's wealthier residents, or cariocas, adopted Parisian masquerades in their celebration of the season before Lent. Soon, Native American and African elements were also mixed into the balls, giving birth to the flamboyantly modern Carnival.
A bleak contrast among the wealthy and poor can be seen within Rio's glitzy towns. Violence and crime is rampant within the city's slums, or favelas, just at the outskirts of the rich districts. However, most cariocas are warm, relaxed, and gracious people, a certain reflection of the city's balmy tropical climate.
---