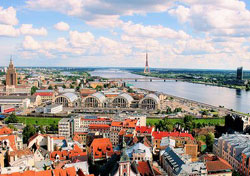 The Riga District covers the region surrounding the capital city of the same name, which is a district on its own. It lies across the central Latvian regions of Zemgale and Vidzeme. To the north it borders with the Gulf of Riga, in the Baltic Sea. Its northeastern part is heavily forested and dotted with lakes. Three of the country's largest rivers Daugava, Lielupe and Gauja flow through the district.

People have inhabited the Riga District's territory from ancient times; one of its earliest settlements has been dated to the 9th century BC.
One of the loveliest towns in the Riga District is Sigulda. It lies 50 km east of Riga City, in the steep-sloped Gauja Valley. This is part of the Northern Kurzeme Highland an area that has been called the Switzerland of Latvia. It is known for its majestic scenery and such attractions as the Sigulda castle ruins, Gutmana Cave, and the Turaida castle museum.
The seaside resort town of Jurmala is also located within the district.
---