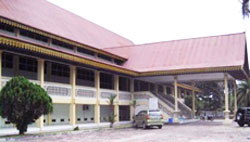 Riau province is in the centre of Sumatra, along the Strait of Malacca. Its largest city, Pekanbaru, is also its provincial capital.

This province is very rich in natural resources and once very dense with trees. The resources here though fuel part of Indonesia's economy and is the reason why logging is a major industry here. Because of this, Riau has sadly lost a big percentage of its forest.

Pekanbaru
The capital of Riau province in Sumatra Island is the long-standing trading port of Pekanbaru. The city, which is divided into 12 sub-districts, is located along Siak River, which flows through the Malacca Strait. Pekanbaru prides itself as one of Indonesia's cleanest large cities, awarded the Adipura cleanliness award two years in a row. It has a hot climate and receives little to no rain, which makes forest fires quick to spread and cause hazardous smog.
Pekanbaru thrives in oil and is mostly a business and trading centre. But there are a few interesting sites to see such as the An-Nur Mosque complex, Riau Cultural Park, and Sang Nila Utama Museum.
---