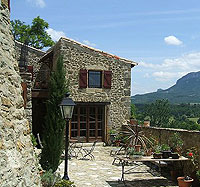 Rhône-Alpes is region that still has a lot of wild terrain, particularly the mountainous Alpine territories on the east, where you will find Mont Blanc, France's highest mountain. The region is conducive to all sorts of outdoor sports and activities, such as hiking, mountain biking, or skiing, and has a number of France's most popular ski resorts.
Rhône-Alpes has a successful economy that relies on light engineering, mechanical engineering, and high-tech industries. It is the second most prosperous French region, second to Île-de-France.
The regional capital is Lyon, France's third largest city. It has long held a reputation as the French capital of gastronomy, due to its great chefs and the proximity of two top-notch wine-growing regions, Beaujolais and Côtes du Rhône.
The Lumière brothers showed their pioneering works of cinema in Lyon, back in 1895. The Musée Lumière in Lyon celebrates their work and heritage.
---