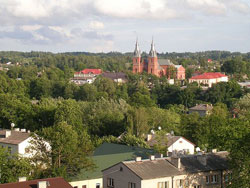 Rēzekne is a district in eastern Latvia, within the central part of the old Latgale region. Its terrain is marked by a large number of lakes and small rivers. The two largest lakes in Latvia, the Lubāna and Rāzna, are found in Rēzekne. The district is sometimes referred to as "the land of blue lakes."

Rāzna Lake is one of the main tourist destinations in the district. It is surrounded by numerous guesthouses, hotels, campsites, and cultural attractions like the "Red Palace" of Lūznava and its surrounding nature park. One highly unusual attraction is the Rāzna sanatorium with its striking modern architecture.
Lielais Liepu, the third highest hill in Latvia, lies a short distance from the Rāzna lake.
---