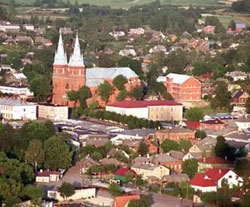 Rezekne City is known as "the heart of Latgale." Today the city is seen as the centre of culture and education for the region.

Like Rome, Rezekne is a city set upon seven hills. Its existence dates back to ancient times. It was a major settlement of the Latgalians, who built a hill-fort at Rezekne that lasted from the 9th to the 13th century, when it was destroyed by German crusaders. In 1285 the Livonian Order built the stone castle of Rositten on the same site, but it is now a ruin with only a few wall fragments remaining. A model of the medieval castle can be visited, however.
Rezekne's most significant monument is Latgales Mara, a bronze statue memorializing the liberation of Latgale from the Russian Bolshevik state in 1920. It depicts the form of a woman, known as Mara after the native goddess of fertility and motherhood although she is holding a Christian cross. The statue is a revered symbol of Latgalian nationalism, which caused the Soviets to take it down when they came to occupy Latvia. After Latvia regained its independence, the statue was reconstructed.
Rezekne is a bastion of ethnic and religious diversity. Latgalians, Russians, Poles, Ukrainians and Jews constitute the population. Catholics here have long lived alongside Russian Old Believers, Russian Orthodox, Lutherans, and Baptists, all represented by their own churches. The significant Jewish population is serviced by several synagogues.
---