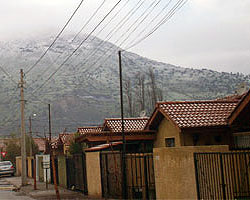 One of Santiago's poorer communes, Renca has a population of over 134,000, consisting mainly of impoverished families living in crowded conditions in small homes.
Recently, some Renca residents benefited from a housing project developed by Harvard-affiliated planners and architects, with help from Chilean Harvard alumni. Neat row houses were built for 170 families that used to illegally squat on this land at the base of the Andes.
The row houses are narrow, three-storey homes facing each other, with small courtyards where residents have planted trees. Plumbing, lighting and heating were installed in each home, but the interiors were left for the residents to furnish themselves. The project has enabled the residents to stay where they are, and to remain neighbours with each other. Similar developments in other countries are now being planned.
The Renca hills divide the commune from its neighbor to the north, Quilicura.
---