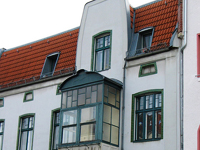 The district of Reinickendorf once belonged to the 'French sector'. One of the greenest districts of Berlin, forest covers over a fifth of the district, and an equal area is covered by lakes and rivers.

One of this borough's main tourist attractions is Tegeler See, in the northwest section of the borough, one of Berlin's longest open waterways, near the old village centre of Tegel. The Tegeler Forest is popular for hiking and riding paths and playgrounds. This is a popular holiday destination for Berliners. There are many apartments and hotels, and water sports and other recreational facilities.
A famous landmark is the Humboldt Mill, which used to be called Tegeler mill. Built in 1810, it was in use until 1988, and is now a protected site.
The population of this borough has been rapidly declining. Yet vacancy rates are low, meaning that the number of residential properties has fallen. The area is quiet, and thus especially attractive to families, and has houses and villas in some areas, but 1960-1970s high-rises elsewhere.
Reinickendorf
Reinickendorf's old part has many buildings dating to the end of the 17th century. The village centre is slated for conservation.
Some of the main residential developments include:
Weisse Stadt (White City), a 1920s development centred on Aroser Allee consisting of compact units, an example of early pre-fabricated housing. To the west of the old village is another 1920's development, with white plaster and red brick buildings.
Cite Berthezene, in the district's south west, is a two and three storey residential development dating back to the occupation by the French Allies. Being in the flight path of Tegel Airport, these homes have sound-proof windows.
Tegel
Tegel has one of the lowest population densities of Berlin's main districts. It has plenty of green open space and a lake - the popular Tegeler See. It has both residential and industrial areas.
In Alt (Old) Tegel there are many mid-19th century buildings, and renovated single-family homes on charming side streets, often lined with trees. They are usually rented out. Near the Tegler See are some high-rise buildings, city-villas, and residential complexes.
There is a pedestrian zone with department stores, a covered market, and many smaller shops.
Two stately homes in this area once belonged to the area's principal families:
The Schloss Tegel, a grand country house belonging to the Von Humboldt family, which was built in the1820s.
Villa Borsig, a fine baroque-style mansion built in 1910. It is owned by the Borsig clan and is now a federal building.
Tegel Airport, the main airport of the former West Berlin, is to be closed in 2011.
Borsigwalde in nearby Wittenau is a residential development built for Borsig Company workers. The old Borsigwerke buildings have been converted into one of Berlin's largest shopping malls, Borsighallen.
Konradshohe (Tegelort)
A tiny historic area on the borough's western outskirts, Konradshohe/Tegelort was founded in the 1860s. Mainly urban, it is surrounded by natural beauty, with the environs of the Tegeler See, the Havel waterway, and the Tegeler Forest. It is a popular holiday site due to its waterways, which are good for leisure boating. There are some good restaurants and inns , and many charming villas. Some developments with two-family and multi-family homes were built in the middle of the district in 1979, near Falkenplatz, where there are shops and leisure facilities.
Heiligensee
Heiligensee, in the borough's far northwest, was mostly rural up to the 20th century. Its old village centre is bounded by the Heligensee and the Havel. It boasts a 15th century church. Within the old village are many houses dating back to the late 18th century. There is also an artists workshop in the old village green, that has long been preserved by a community of local artists.
A 1920s development can be found at Ruppiner Chaussee, to the east of the old village. Northeast of this is the 1935 Borsig industrial workers settlement, which has small detached homes.
Frohnau
Built in the 1900's as a garden city, Frohnau it has upscale properties, including villas and country houses. It was designed by landscape architect Ludwig Lesser along the lines of English Garden Style.
This area is elegant and modern, and with plenty of shops and schools. It is particularly popular with families, due to the facilities for polo, horseback riding, tennis, and golf.
Two high towers are major landmarks: The Casino Tower, a clock tower built in 1910, stands 30 metres tall and has a viewing platform. The Radio Transmission Towers of Frohnau, built in the late 1970s, are the second highest structures in Berlin.
Hermsfdorf
The area around Hermsfdorf station is an exceptionally attractive place to live. To the east of the S-Bahn line are some lovely 18th-19th century farmhouses. Hermsdorf grew from an old village established in the 1500s. Its population boomed at the beginning of the 20th century, when many housing developments were being built in suburban Berlin.
The village centre in the north of the borough offers good housing. There are both single-and multi-family homes here, with many villas and plenty of apartment blocks that house four to six families. The S-Bahn line runs through this district, making the Berlin city centre easily accessible.
Waidmannslust
Waidmannslust is a tiny residential area which grew around the Inn Waidmannslust, built at the end of the 19th century. The early homes were mostly villas and country houses, later followed by large residential developments. There are some elegant, well-preserved Art Nouveau houses in the area around Diana/Prince Bismarck Street.
With the erection of the Berlin Wall, more high-rise apartment buildings were built such as Rollberge Siedlung (Rolling Hills). Built in the late 1960s, it has some 2000 units. On Titisee Street there are two towers with 22 floors.
Lubars
Lubars village dated back to the 11th century. It maintains its traditional village character, with a church, pond, schoolhouse, and fire station at its heart. It has some of the few working family farms to be found in Berlin.
As more people sought housing in the suburbs of Berlin in the 19th century, the village began to expand. Most of the construction was brick as the area was famous for its brickyards. It became part of Greater Berlin in 1920.
The village is famous for its horse stables. There's also a huge recreational park on a former landfill site, with facilities for riding, hiking, cycling, skiing, tobogganing, and other sports. There is also a beach nearby with lovely clear water.
Wittenau
Wittenau is built around an 18th century village, but has grown into a well-developed residential area of Greater Berlin, which it became part of in 1920.
One well-known development is Borsigwalde, built in the early 20th century to provide housing for the Borsig factory employees. It consists mainly of tenement-like buildings for the thousands of workers, though there are also fine apartments for the senior employees. This development was further expanded in the 1930s, and some parts of it are preserved as monuments. The post-war Cite Foch development provided 800 homes the French Allies. French influence can be seen throughout the district in street names.
Maerkisches Viertel
Completed between 1963 and 1974, Maerkisches Viertel is an enormous high-rise housing estate, with some 17,000 units intended to house up to 50,000 inhabitants. Its original motto was urbanity through density.
From the start, this planning concept inflamed a debate about what some saw as an inhuman form of urban development. The original residents were relocated from inner city areas, and were uncomfortable in the neighbourhood and dissatisfied with the lack of facilities in the area. These problems were recently remedied through the construction of stores and, in 2002, a spacious modern commercial area. The buildings have also been renovated to become more attractive to families.
---