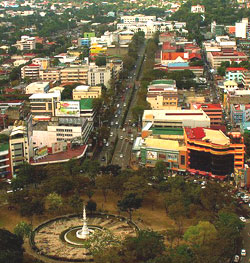 Central Visayas is composed of the provinces of Cebu, Bohol, Negros Oriental, and Siquijor. After he landed on the small island of Homonhon, Ferdinand Magellan made his way to Cebu, where he made an ally of the local rajah. The people of the neighbouring island of Mactan, however, were not as welcoming. After his offer of Christianization was rejected by Mactan's datu, Magellan sailed to the island with a small army, and was killed in the skirmish that resulted.

Today, Magellan's Cross is the most prominent landmark in Cebu City, while Mactan has both a statue of the datu, Lapu-Lapu, and a shrine to Magellan.
The region has numerous natural rock formations as well as immaculate beaches, waterfalls and caves for the adventurous, as well as historical spots for a more restful tour of the area.
Landing at the international airport of Cebu City, one is greeted by a more hectic pace than the one enjoyed by the rest of the island. As the prime metropolitan area of the Visayas, Cebu City has developed into the regional centre of business, education, and culture. Its numerous shopping centres, business establishments, restaurants and hotels put it at the forefront of development in the region.
The province of Bohol is fast developing a name for itself as a tourist destination, especially its diving and snorkelling sites. It also has the Chocolate Hills, a delightful array of conical hills dotting the countryside. Bohol has some unusual wildlife, including the tiny, huge-eyed Philippine tarsier and other endangered species.
---