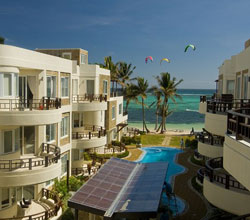 Western Visayas consists of Aklan, Antique, Negros Occidental, Capiz, Guimaras and Iloilo. A largely coastal region, its main sources of income are fishing, farming, mining, and trading. The region is rich in natural resources, but indiscriminate logging has denuded its forests.

Tourism is also a huge industry. Boracay is the top destination here. This idyllic island with its white, powder-fine sand and fun, laid-back atmosphere is located off the northwestern tip of Panay Island. It is under the jurisdiction of the province of Aklan and the Philippine Tourism Authority. The island has developed a culture of its own and is known for its party atmosphere and water sports.
Aside from combing the beaches, one can explore the many shops that have opened on the island—some of them selling locally made items. A number of resorts here are managed by expats.
---