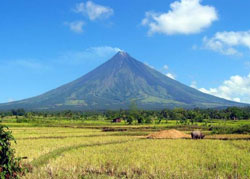 The Bicol Region is located at the southernmost area of Luzon and is composed of the provinces of Albay, Camarines Norte, Camarines Sur, Catanduanes, Masbate and Sorsogon.

Bicol is hilly and mountainous. Its most famous peak is Mount Mayon, known for its restlessness (it is the Philippines' most active volcano) and for its near-symmetrical cone, the most perfect among all the world's mountains. Agriculture is the main source of income here. Tourism, fishing and geothermal generation are other contributors to the economy.
The province of Camarines Sur is making a name for itself as the place for wakeboarding and waterskiing.
In Sorsogon, whale sharks appear in the waters near the towns of Castilla, Pilar, Magallanes and especially Donsol from October to May. These sharks, known locally as butanding, feed on plankton and krill. Boats take tourists out to view them at closer range and even swim with them, though swimmers are not allowed to touch them or come too close to them.
There are also many Spanish-era churches and historical landmarks. In this region. One of these is the ruins of the church of Cagsawa in Albay, which was almost completely buried when Mayon erupted in 1814. Only its belfry remains above ground, and is a popular tourist attraction.
---