Region IV-B is composed of the provinces of Marinduque, Mindoro Oriental, Mindoro Occidental, Romblon and Palawan. These provinces offer many attractions for the outdoor enthusiast.
Mindoro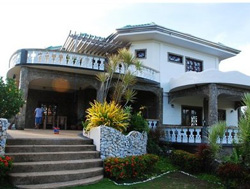 The island of Mindoro is divided into Mindoro Occidental and Mindoro Oriental by the Halcon Mountain Range. The western part is home to the Mangyans, an indigenous people with their own cultures and traditions. They make up about 10% of Occidental Mindoro's population and the name is a collective term for several indigenous tribes found in the area.

Mindoro's Apo Reef is one of the world's largest coral reefs, second only to Australia's Great Barrier Reef. The Nature Park that protects it has many beautiful dive spots as well.
On the other side of the Halcon Range, Oriental Mindoro is also blessed with numerous dive sites and is a haven for the outdoor enthusiast. Puerto Galera, its most popular town, is surrounded by beaches and caves, and visitors come here regularly to enjoy diving, snorkelling, sailing, kayaking, mountain climbing, game fishing, and golf, and also to party on the beach all night.
Marinduque
The island of Marinduque is most famous for its Moriones Festival, held just before Holy Week. The festival re-enacts the story of a blind Roman soldier who gained his eyesight after blood from the crucified Christ dropped on it.
The island's terrain and natural rock formations make it a great place for hiking, spelunking and mountain climbing, and it is surrounded by beautiful waters great for diving.
Romblon
The province of Romblon is composed of 20 islands, with Tablas, Romblon, and Sibuyan as the three largest. Romblon is well-known for its high-grade marble deposits, but the islands also have a lot of beautiful beaches and some Spanish-era landmarks.
Palawan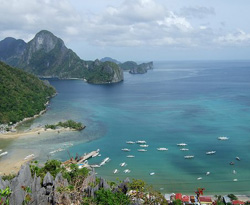 In the Sulu Sea, the province of Palawan stretches out like a very long arm from Mindoro in the northeast to Sabah in the southwest. It is composed of around 1,700 islands spread over an area of 1.5 million hectares. Due to the vast amount of flora, fauna and natural formations found here, Palawan has been declared a world nature sanctuary.

Puerto Princesa, the capital, is partly urban, partly rural, and blessed with the bounty of Palawan's natural resources—caves, white beaches, tropical forests and one of the longest and most impressive underground rivers in the world. The Subterranean River Natural Park is also known for its limestone cliffs, cathedral caves, and old growth forests.
Venturing further into the province, you will find the El Nido Managed Reserve Protected Area which is known for its dive spots, bird's nest rookeries and limestone cliffs. The Calauit Game Preserve and Animal Sanctuary houses exotic animals, including African wildlife such as giraffes and zebras, that are allowed to roam freely within the preservation.
---