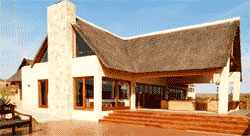 Like other parts of the city, Region C's landscape is a mix of urban sprawls, vast open spaces, and some spectacular natural attractions. The majestic Witswatersrand ridge runs through this part of Gauteng, and influences much of the region's geography. The Cradle of Humankind is close to the region's northern area as well, with many great guesthouses dotting its wide open spaces. More  urbanized areas include Roodepoort, Florida, Bram Fischerville, and the region's new major development, Cosmo City.
Region C is part of Gauteng's Primary Urban Development Support Zone, and it is being geared towards integration with the city's southern areas and the more residential developments that are rising in several areas of the region, particularly along Christiaan de Wet Road. The region has an advantageous location, providing easy access to Johannesbrg's CBD through good road links, though road access to other main economic centres like Sandton and Randburg is currently poor. The situation has posed traffic problems in many of the secondary roads, disturbing the peace in some residential areas.
Most of Region C's adult population is within the middle to upper-class income bracket, with many young professionals and small families. The region's demographic may change a little after Cosmo City and Zandspruit are fully developed, though this will mean that the community will have a more well-rounded spectrum of different socio-economic groups.
Roodepoort
Roodeport's history is rooted in the area's gold rush in the 1880s, which led to the birth of the municipality in 1904.
Roodepoort has some of the best residential areas in the city. The houses are situated on rolling hills, and residents enjoy exquisite vistas of the city to the east and the Magaliesberg mountain range to the west.
The newer developments in Roodepoort are currently thought to be expanding at a faster rate than anywhere else in the country, mainly because of the current rise of the Black middle class, and the municipality's advanced infrastructure and proximity to other large Gauteng cities. It may only be a matter of time before Roodepoort joins the ranks of Randburg and Sandton in terms of economic growth.
Apart from investment property opportunities, Roodepoort still has a lot to offer. The Ruimsig area is alive with the exhuberant presence of students from Australia's Monash University, whose South African campus is located here. All the youthful excitement has definitely upped the town's hip factor, and Ruimsig is the chicest place to be seen in Roodepoort. All the trendy clubs, restaurants, and shopping areas are concentrated in Ruimsig's Featherbrooke Village, Ruimsig Boulevard, and the lively Town Square along Hendrik Potgieter Road.
To get a feel of Roodepoort's transition from dusty mining camp to its current modern state, look no further than the Roodepoort Museum along Christiaan de Wet Road. Its exhibits include a depiction of a 19th century Transvaal pioneer farmhouse and a reconstructed Late Victorian house and garden complete with furniture and other artefacts.
The town's pièce de résistance is The Walter Sisulu National Botanical Garden. Formerly the Witswatersrand National Botanical Garden, it was re-named to honour one of South Africa's staunchest anti-apartheid activists. A sprawling, 300-hectare area with the Witpoorjie Waterfalls as a spectacular backdrop, this garden is rightly considered one of Johannesburg's great natural hideaways. Walking trails bring visitors around different flower and plant gardens, watercourses, rocky ridges, and even to one of the two small mountains overlooking the waterfall and eagles' nests.
Region C's major development, Cosmo City, is slated to become a mixed-income residential area of 15,000 housing units spread out over its sprawling 1,200 hectares. Cosmo City offers three types of housing to meet its residents' financial situations: fully-subsidised housing, credit-linked houses, and fully bonded houses. It began as a Greenfield project in 2004, and is currently a thriving suburb with two schools for children and its own health centre. Though it's generally a lower-middle-class residential area, homeowners take pride in their surroundings and often cultivate friendly gardens on their front lawns.
---