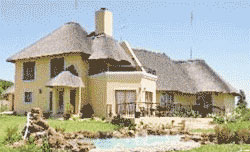 Though famous for its proximity to The Cradle of Humankind and the heritage site Sterkfontein Cave, Region A has a unique character all on its own. There are two sides to Region A: the western portion's rural atmosphere, and the eastern portion's decidedly more urban feel. Whichever side you choose to settle in, Region A is considered the northern gateway to the city and is poised for great metropolitan economic opportunities.
Western Region A
The region's western side is composed mainly of agricultural areas and vast tracts of undeveloped land. Investment properties are still plentiful, even as industrial and business opportunities are on the rise in areas like Kya Sand and Lanseria. Residential options are also varied: neighbourhoods like Dainfern, Farmall, and Chartwell are affluent and populated by the educated upper-class, while some nearby neighbourhoods, Diepsloot in particular, are densely populated low-income zones.
Diepsloot was originally created as a transit camp for those relocated from Zevenfontein in 1995, but most of them settled here permanently. The Transvaal Provincial Administration developed formal housing, though the area became congested with thousands of families settling into shacks and extremely poor living conditions. The relocation of 5,000 more families to the area due to the Alexandra Relocation Project only strained the problem further. Today the depressed Diepsloot area is home to over 150,000 people, most of them living in makeshift shacks and half of them unemployed.
The area does have its own tourism draws like bird sanctuaries, a nature reserve and leisure areas, though public access is limited and the land is still undeveloped.
The large district of Fourways is one of the fastest-growing and best-developed economic areas in the city. It is divided into exclusive suburbs and estates. One of these is posh, well-guarded Dainfern, which has an exclusive college, a golf course and a country club.
Another is Montecasino, one of the top destinations for fun and leisure in Gauteng.  It has an entertainment and gaming complex that includes a casino, a 5-star hotel, conference centres, shops and restaurants.
The nearby neighbourhood of Chartwell in the Chartwell Hills is farm and horse country, even though it is only minutes away from the urban sprawls of Sandton and Johannesburg's airport areas.
Eastern Region A
The eastern part also has some agricultural lands, though it's mostly composed of townhouses and cluster village developments. Most of the economic action in the region happens here, particularly in the rapidly developing Midrand CBD.
Midrand
Originally built along the old main road between Johannesburg and Pretoria, the construction of the Ben Schoeman highway has afforded more accessibility to the area and was responsible for its developmental boom. Most of the region's population currently resides in Midrand, and though the area is home to some very wealthy neighbourhoods, most of its population is impoverished.
Midrand's development has been increasing since the last decade, and it has become quite modern. Many businesses have relocated here, taking advantage its good highway links, and the Gauteng Provincial Government predicts that most of the area will have turned into a city by 2015.
Midrand has the prestige of being host to one of Johannesburg's prime conference sites, the Gallagher Estate, which is the seat of the African Union's Pan-African Parliament. Some other notable areas include the Grand Central Airport, the internationally renowned Kyalami Grand Prix circuit, and the World Trade Centre, where all UN delegates convene once annually.

Residential developments are mostly upper-class neighbourhoods, though there are some poorer areas to the east, like Ivory Park. Affluent neighbourhoods in Midrand include Vorna Valley, Halfway Gardens, Halfway House Estate, Kyalami, Crowthorne, Carlswald and Glen Austin. These areas are quite well-developed and have many shopping and entertainment centres.
The Gautrain Rapid Rail Link is slated for construction in Midrand, with an imposing station to be built near the Grand Central Airport. There are also plans to build a major shopping centre right by the future station, as well as some more residential and commercial developments in its vicinity.
---