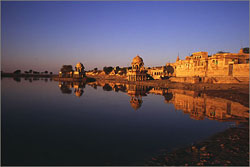 India's largest state, Rajasthan is famous for the bly aesthetic quality of its tradition. The Marwaris (Marwar is in Southwest Rajasthan) and Rajasthan's formerly independent kingdoms, created a rich architectural heritage seen today in their numerous forts and palaces (Mahals and Havelis) with Muslim and Jain architectural features. There is also a rich folk culture, and highly developed classical music and dance.

Rajasthan is also known for its traditional block prints, tie and dye prints, and embroidery, which are major exports. There are beautiful handicrafts like wooden furniture, carpets, and blue pottery. Reflecting the colourful culture, Rajasthani clothes have a lot of mirror-work and embroidery.
Rajasthan is dominated by the vast, harsh Great Indian Desert. The northwest is dry and sandy, and much of the remainderis agricultural.
The climate is hot from April to June, when temperatures can reach 45 degrees Celsius. Even after the rains in April-June, it is not much cooler until October-December, when temperatures range from 18 to 38 degrees. January-March is Rajasthan's winter, when temperatures may drop to zero in some areas, like Churu.
Scenic Rajasthan has some notable ecotourism sites the Ranthambore and Sariska tiger reserves, Keoladeo National Park, and Udaipur's lakes.
Rajasthan's palaces, temples, and forts attract tourists, and many have been repurposed as hotels. The local culture in Rajasthan is rich and very much steeped in the past.

The food here is extremely spicy and almost exclusively vegetarian.
Jaipur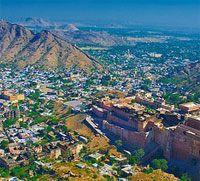 Jaipur, the capital, is a beautiful, orderly city, known as the Pink City as it is dominated by buildings of rosy stucco. The colour chosen to paint its buildings was inspired by the pink sandstone typically used in Mughal architecture; the uniform painting was first undertaken in 1876 in preparation for a visit from the Prince of Wales.

Jaipur is an ancient city with wide, regular streets and is divided into six sections. It has well-maintained parks. At its heart is a vast palace complex called Hawa Mahal, or Palace of Winds, with elegant gardens and pond. Other significant structures here include the Nahargarh Fort atop a hill in the old city and the Jantar Mantar observatory of Sawai Jai Singh.
Jaipur is thought to be the first planned city in India. Certainly its design is excellently conceived, based on Vedic architectural design principles. It has overflown the walls of the ancient city and is now a bustling urban sprawl, yet it still adheres to the original principles and retains the form of an eight-part mandala. It has 27 shops, as it follows the original plan to make use of multiples of nine in reference to the nine planets.
Jaipur is a safe city, though some scams have proliferated here lately, usually victimising tourists and foreigners. The local police make use of hi-tech facilities like GPS in keeping order in the community. Being a peaceful city with good higher education facilities, Jaipur has recently grown into a centre for education.
The climate of Jaipur is semi-arid, with rain only during the monsoon season from June-September. Rain can get hard, but floods are rare. It is pleasantly cool in the winter months, from November to February, but now and then temperatures drop close to freezing during cold waves. On the other hand in summer, from April to July, the temperature is usually around 30 degrees Celsius.
Other much-touristed cities include Jaisalmer, Udaipur, Ajmer and Amber.
Jaisalmer
Jaisalmer is a marvelous medieval city, in the middle of a desert, entirely surrounded by its original walls. Nicknamed "the golden city", it stands on a ridge of yellowish sandstone, crowned by a fort, which contains the palace and ornate Jain temples. Many houses in Jaisalmer have fine sculpture-work. Traditionally Jaisalmer survived by levying taxes on caravans. Jaisalmer avoided Muslim rule and was one of the last princely states to sign a treaty with the British.
Udaipur
Udaipur is known for its Rajput-era palaces, and for its lakes. Particularly famous is the Lake Palace, which covers an entire island in the Pichola Lake. On the east bank of the lake is a massive series of palaces built from 1559 on, whose balconies provide panoramic views of the Lake Palace Hotel (many of the palaces are themselves now luxury hotels). Udaipur was formerly the capital of the Kingdom of Mewar, which remained unconquered by the Mughals, and scornful of the British.
Ajmer
Ajmer is a beautiful city, surrounded on all side by mountains.
Amber
Amber is famous for its hillside palace-fort, a fine example of Tajput-Mughal architecture, and is picturesquely situated at the mouth of a mountain gorge, in which nestles a lake.
---