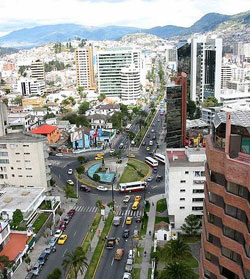 Quito is one of the most beautiful capital cities in the world, a jewel of colonial architecture cradled in an Andean valley, 10,000 feet above sea level and 15 miles south of the equator. In the city, enclosed by the Cotopaxi, Cayambe, Antezana, and Pichancha volcanoes, mornings are cool, middays pleasantly warm, and evenings quite chilly. The Quiteños are vibrant and friendly, their food excellent, their culture alive in their music and arts.

This dynamic city prides itself on its fine restaurants, five-star hotels, its multitude of malls, cafés and bookshops, spacious parks, art deco mansions, magnificent churches and museums, colourful crafts markets, well-maintained historical plazas, vibrant night spots, gleaming skyscrapers.

In the midst of this modernity, Quito's Old Town is the largest and best-preserved historic district in the Americas—1 ½ square miles of cobblestone streets and plazas, colonial manors and churches, high belfries and clock towers. Quito was the first city to be named a World Heritage Site by UNESCO, and the Quiteños have taken care to live up to the designation by taking care of their beautiful old quarter and by creating museums and cultural centres that commemorate their city's great heritage.
In spite of the nearby presence of an active volcano, Quito continues to be a magnet to migrants, its current population nearly reaching the 2 million mark.
---