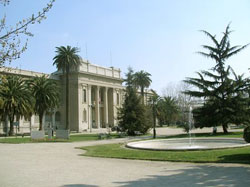 Quinta Normal is a modern residential zone offering plenty of cultural attractions and entertainment.

The heart of the commune is the Parque Quinta Normal, which it was named after. The park had been created in the mid-19th century to allow foreign plants to acclimatize to Chile's weather and soil conditions, and a neighbourhood sprang around it over the years. The park is 40 hectares large and has a small lake where visitors can go boating. There are four museums in the park, including the Artequin, an interactive children's museum housed in an amazing Art Deco glass structure called the Pabellon de Paris (it had housed Chile's exhibition during the 1889 Paris World's Fair); the Natural History Museum, which is housed in a 130-year-old Neoclassical building; and the Science and Technology Museum and Railway Park.
Just across the Metro station is the small Galeri­a Quinta Normal, on whose upper level the Sala de Pablo Neruda hosts film showings every Sunday nights. The modern Biblioteca de Santiago is a library complex with computer stations that have high-speed internet access, a cafes, and an art gallery.
---