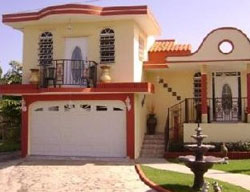 Quebradillas got its name from the large number of small streams that flow through the town, but residents also fondly call it La Guarida del Pirata because it was a popular hideout for pirates. Evidence of these cutthroats of the seas having been in the area can be found in the Puerto Hermina Beach Pirate Ruins.

One need not be a pirate to enjoy Guajataca Beach. Visitors have fun swimming and snorkelling in the deep blue waters or collecting beautiful sea shells in the white sands.
The man-made lake and water reservoir Lago Guajataca is another good site to visit for its scenic locale and hiking trails. The lake was created by the Puerto Rico Electric Authority in 1929 by damming the Guajataca River. One could also fish for tilapia, bass and bluegill in its waters.
The Guajataca State Forest has a unique topography known as karst, an irregular limestone region characterized by sinkholes and haystack-shaped hills.
---