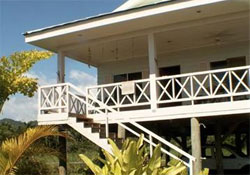 Puntarenas (a prime area) is the largest province in Costa Rica. Its varied attractions include rainforests and cloud forests, hills, mountains and valleys, mangrove swamps and lagoons, and the country's beautiful Central Pacific coasts. Deforestation has ruined large parts of the region, but Puntarenas tries to make up for it with wildlife reserves and national parks.

Puntarenas and its beaches are easily accessible from San José, Costa Rica's capital, making the province even more ideal as a tourist destination. Puntarenas's coasts are sunny all year. Occasional rains in the southern coasts ensure that the forested areas are green and well nourished. The waters are great for swimming, snorkelling, surfingand sport fishing.

The capital town, Puntarenas, was once one of the main sea ports in the country. It is still a stopover point for Pacific cruises, but commercial fishing is now the main industry. It has some of the best seafood restaurants in Costa Rica. While the capital is not really tourist-orientated, it is a favourite place to visit by Costa Ricans from other provinces, particularly San José.
Manuel Antonio National Park in the town of Manuel Antonio has white sand beaches with a lush vegetation of primary and secondary forests and mangrove swamps. Houses peek out of trees, their colourful facades providing a charming contrast to the green landscape.
The Osa Peninsula, Costa Rica's eco-tourism centre, boasts an unrivalled biodiversity. It is not only a popular spot for leisure travel and educational tours, but is fast growing as an international residential community.
Some of the beaches in Puntarenas are still undeveloped.
Osa Peninsula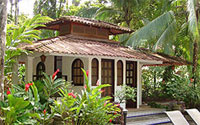 The verdant Osa Peninsula faces the southern Pacific Ocean. It is hotter and wetter here than most of the central coast. The area is largely wild, rugged, and boasts an intense biodiversity, making it a top eco-tourism destination in the country.

The largest tropical jungle in Central America is protected in the famous Corcovado National Park. The expansive park is home to pumas and jaguars, endangered eagles and scarlet macaws, and the venomous fer-de-lance snake.

The peninsula was once largely mined for gold, which destroyed coastal rainforests. Corcovado National Park was formed to protect the remaining areas and its significant population of bird and mammal species.
Osa's towns have their charm. Puerto Jimenez, the peninsula's main city, is primarily a transport point, providing access to the region's coastal villages and the Corcovado National Park. Golfito is a tax-free shopping zone, with interesting flea markets. Carate has the lure of wildlife and waterfalls.
The coastal village of Cabo Matapalo, with its long beach and great surf, is the most popular town in Osa.
Cabo Matapalo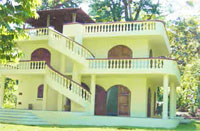 Its isolation makes the small village of Cabo Matapalo in Osa Peninsula a popular and idyllic travel choice. Surfers love the swells of its small beach, and eco-tourists come here to explore the stunning Corcovado National Park.