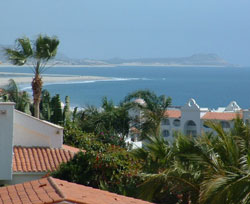 The 67 blocks that comprise the neighborhood of Punta Gorda (a prime area) lie along the coast of the Río de la Plata. An upscale residential area, property prices here start at $15,000 for apartments to $30,000 for houses.

Punta Gorda has some sites of historical significance. Plaza de la Armada, a tranquil park overlooking the ocean. It has a sculpture honouring the Navy men who died in service to the country. This bronze abstract monument depicts marine animals and the hands of a man clinging to a formless mass, and was made by artist Eduardo Diaz Yepes.
El Molino de Pérez is a mill that was built in 1780. It has been converted into a resthouse, which was used by many of Uruguay's notable personages, including José Batlle y Ordoñez and painter Pedro Figari.
---