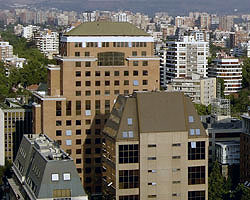 The upper-middle class commune of Providencia (prime area) is one of Santiago's most populous areas. Most housing here consists of ritzy high-rise residential buildings and upscale housing developments. The stately homes of Santiago's elite lend an air of bygone elegance, although most of them have been repurposed into office buildings. Several major embassies are also found here.

The area has quite a varied character. The north is mainly a financial and commercial zone. Barrio Suecia is known for its lively night life'and litter and other effluvia of drunken excesses have led some people to nickname the neighborhood "barrio sucia" (dirty village).  The area between Avenida Providencia and Avenida Andrés Bello (Costanera) has plenty of casual establishments. There are some handsome early 20th century mansions along the elegant cobble-stoned Avenida Pedro de Valdivia.
The commune is home to Barrio Bellavista, bohemian in character despite the fact that two of the most exclusive suburbs in the city are also situated here: Las Condes and Barrio el Golf. The attractions found here are equally varied: from the Neo-Renaissance church Our Lady of Divine Providence, to the Metropolitan Zoo, to a unique park of sculptures adjacent to the commune's cultural centre, and La Chascona, the home of Pablo Neruda.
Pedro de Valdivia Norte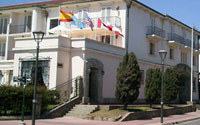 Named after the Spanish conquistador who founded Santiago, this area in Providencia was once a large manorial estate with extensive agricultural lands attached and is now a tranquil residential area, leafy with plenty of open spaces. It is also quite close to Santiago's largest open space, Cerro San Cristóbal (Hill of Saint Christopher), 880 meters above sea level. It can be reached from Pedro de Valdivia Norte by cable car.

There are also several new office buildings in the area along the large avenue of the same name.
Bellavista and San Cristóbal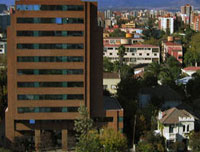 Bellavista is a colourful district, village-like in the day but bustling at night, with many trendy bars, restaurants and cafés. It was a bohemian district a few decades ago but is now quite a conventional area, though all kinds of establishments can be found here. Some delightful shops selling local crafts can be found along Avenida Bellavista.

But the most visited attraction in Bellavista is Neruda's home La Chascona already enough to merit a pilgrimage to the barrio by literary types, but the house itself is architecturally interesting: sprawling, colourful, vaguely resembling a ship, with portholes for windows and whimsical murals on the outer walls. Inside are many fascinating items that Neruda collected over the years, from paintings by friends like Pablo Picasso and Diego Rivera to interesting light fixtures, sculptures, tableware and furniture. The house was named for Neruda's wife's shock of red hair. La Chascona is now a museum.
Cerro San Cristóbal is an enormous hill with a lush growth of trees, right next to Bellavista. Its main tourist attractions are the large statue of La Virgen de la Inmaculada at the top of the hill and the glorious view of the valleys below that can be seen from its terraced Parque Metropolitano. There are also a zoo, two swimming pools, walking trails, and restaurants and cafés. The hill can be accessed by funicular railway or by a two-seater cable car.
---